Welcome to Common Room Projects. We are an art consultancy and gallery space based in the old Station Master's House at Welwyn North Station in Hertfordshire. Read more about us here.
About the artist
Heath Kane was born in Australia and now resides in the UK, creating artwork that blends the practices of design and art. Each work is a response to a particular experience both seen and felt by the artist, whether that be a reaction to a cultural event or political change.
Drawing inspiration from a commercial art background, his approach follows the practice of poster making and the influence of Pop Art to create simple and memorable compositions. "This collection raises questions about wealth and social justice, through the idea that with enough money anyone can be a superhero."
"My debut collection Rich Enough to be Batman was a coming together of my commercial art background and my love of urban art. My approach has always been driven by the practice of design thinking. Focusing on creating simple, iconic pieces that evoke an emotional response. I aim for my collections to be a talking point. Not simply for their artistic value, but for the messaging and larger narrative they represent. Within the lurid colour of my art, I embed subtle often subversive themes that encourage a political or social conversation.
I have never created art to please people. Not even my mother. But, instead, I make art in response to what I see happening in the world. I want to challenge the conventions of our lifestyles and the world we live in today."
Rich Enough to be Batman, 2021
Only 20 of each of these prints was produced and both are now completely sold out.
We have one black and gold print available: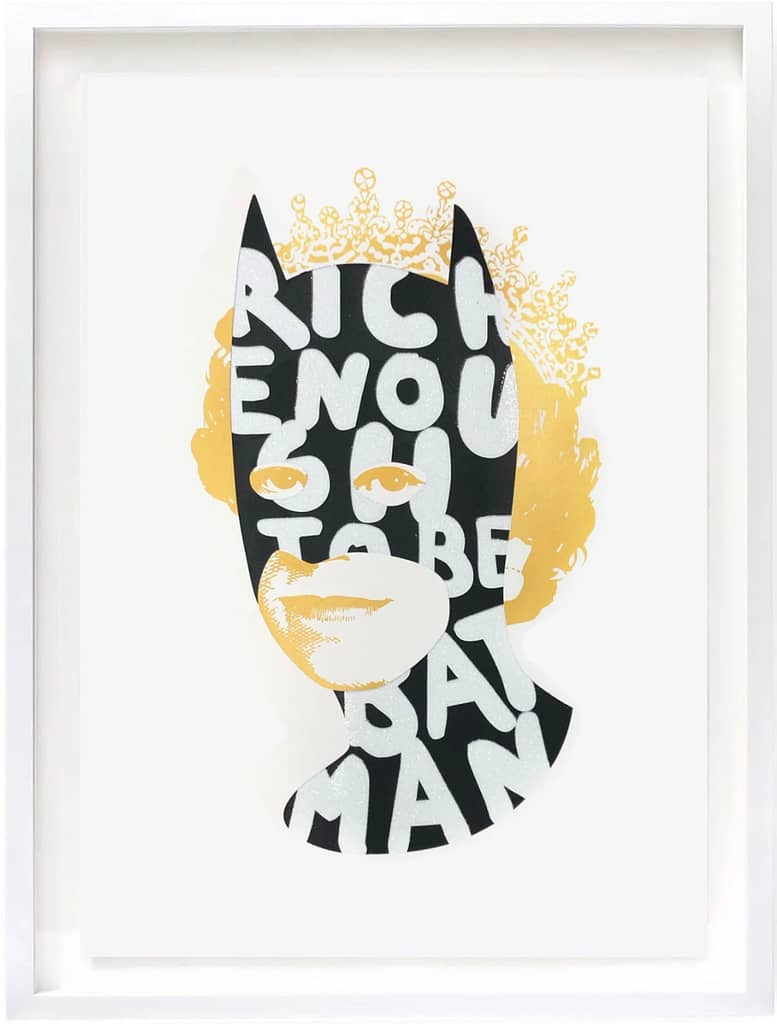 *LAST ONE* Black and Gold Edition print £600 unframed (inc VAT)
Medium: 3 Colour Screenprint on Southbank Coarse 310gsm paper
Specials: Black Diamond Dust and Metallic Gold 
Edition: 20
Size: 59.4 x 84.1cm  | 33.1 x 23.4 in
Signed and numbered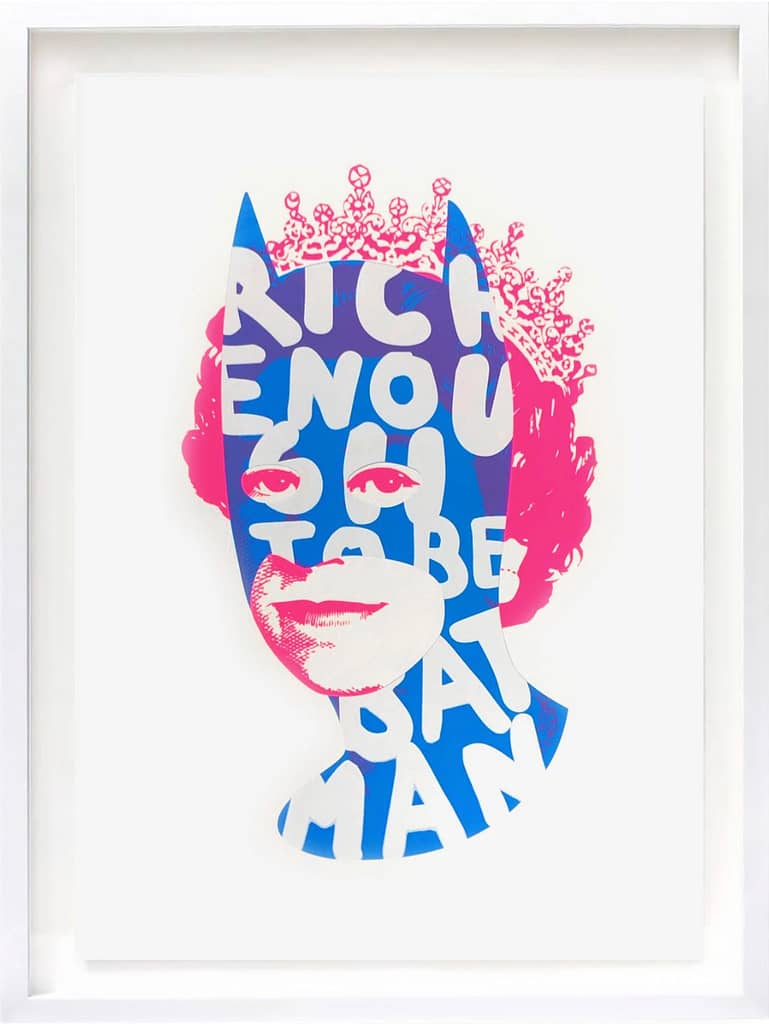 Pink and Blue Edition print *SOLD OUT*
Medium: 3 Colour Screenprint on Southbank Coarse 310gsm paper
Specials: Black Diamond Dust, Neon Blue and Neon Pink 
Year: 2021
Edition: 20
Size: 59.4 x 84.1cm  | 33.1 x 23.4 in
Signed and numbered